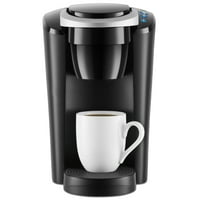 Keurig K-Compact Single-Serve K-Cup Pod Coffee Maker, Black
(also available in Red, and Turquoise color(s))
The space-saving
K-Compact coffee maker
brews one of three cup sizes in under a minute and is the slimmest Keurig removable reservoir, coffee maker.
BREWS MULTIPLE CUP SIZES: (6, 8, 10 oz.). Enjoy the most popular cup sizes. Use the 6 oz. cup size to achieve the strongest brew.
A COMPACT MULTI-CUP RESERVOIR: 36 oz. A removable water reservoir makes refilling easy.
SMART START: Your coffee maker heats then brews in one simple process. No need to wait for it to heat before selecting your cup size.
SIMPLE BUTTON CONTROLS: Just insert a pod, select your desired cup brew size, and brew a great-tasting cup in under a minute.
ENERGY EFFICIENT: Auto off feature turns the coffee maker off 2 hours after your last brew, helping to save energy.
REMOVABLE DRIP TRAY: Removable drip tray accommodates travel mugs up to 7.0 inches tall, and holds a full accidental brew for easy cleanup.
DISPENSE HOT WATER: Open and close the brewer handle (without a pod) and select your cup size for hot water on demand.
The slender and stylish Keurig K-Compact single-serve coffee maker offers consumers a space-saving design to fit their countertop, but still delivers the delicious taste and unparalleled convenience that the Keurig brand is known for.
Choose free in-store pick up if available near you; otherwise, score free 2-day shipping for orders under $35.