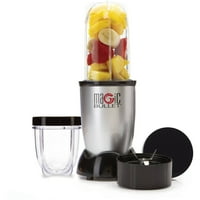 Magic Bullet – 7 Piece Silver
With the Magic Bullet, you can chop, mix, blend, whip, grind and more- all in 10 seconds or less- for the fastest, tastiest meals ever!
Chop everything from onions and grated cheese to pasta sauces and snacks. Unlike bulky blenders and unwieldy food processors that most of us only pull out of storage for specific recipes and special occasions, the Magic Bullet is so handy, so versatile and easy to use that you'll put it to work every single day, probably several times a day.
This special configuration includes a tall cup with a lip ring, ideal for making smoothies and milkshakes, and a short cup for dips like salsa and guacamole.
When done whipping up your favorite snacks and smoothies, just load the attachments into your dishwasher for a hassle-free clean that will have you blending again in no time.
FREE 2-day delivery on orders over $35.
FREE in-store pickup, if available (save on shipping cost)