My Hello Kitty Obsession
(This post contains an #affiliate link.)
This obsession of mine started about 10 years ago.
My mom bought me a #Harajuku cat pocketbook (at an outlet store) in New Hampshire.  I received many compliments on the zany pocketbook! I just love cats! Then I found out about a different cat named Hello Kitty.
I love Hello Kitty products. They are so adorable!
Even though I am an adult, I still have a little bit of that "kid instinct" in me!
Whenever I am out in some store and pass by a Hello Kitty product, I just melt!
Who doesn't like Hello Kitty? I know some people don't, but I do! 🙂
Sometimes, the people I am around will say to me, "Seriously", Hello Kitty, Aren't you a bit old for that?
I am not old for anything of Hello Kitty, LOL!
I have put together a list of Hello Kitty products for babies, kids, and adults!
There is always something for anyone! 🙂
Enjoy! 🙂
Hello Kitty Girls Hello Kitty® Sports Duffle Bag Review
I love my Hello Kitty Sports Duffle Bag. It has 2 zipper interior & exterior pockets Vented shoe or gear compartment, and a removable shoulder strap. This bag can fit a lot of stuff in easily. The bag has a zippered opening on top. I can stuff 4-5 days worth of clothing, and my light-weight coat in it too. I take my #HelloKitty Sports Duffle Bag with me whenever I travel or for everyday sports.
Hello Kitty Throw-In-A-Bag
Shell love the comfort and you'll love the convenience of the Hello Kitty Throw-in-a-Bag. This pretty pink polyester blanket is printed with white polka dots and a large image of Hello Kitty waving "Hello". It comes with a cute pink Hello Kitty tote which can be used to store the blanket, extra clothes, beach wear, or anything else you can think of. Size: 40X50 Inches.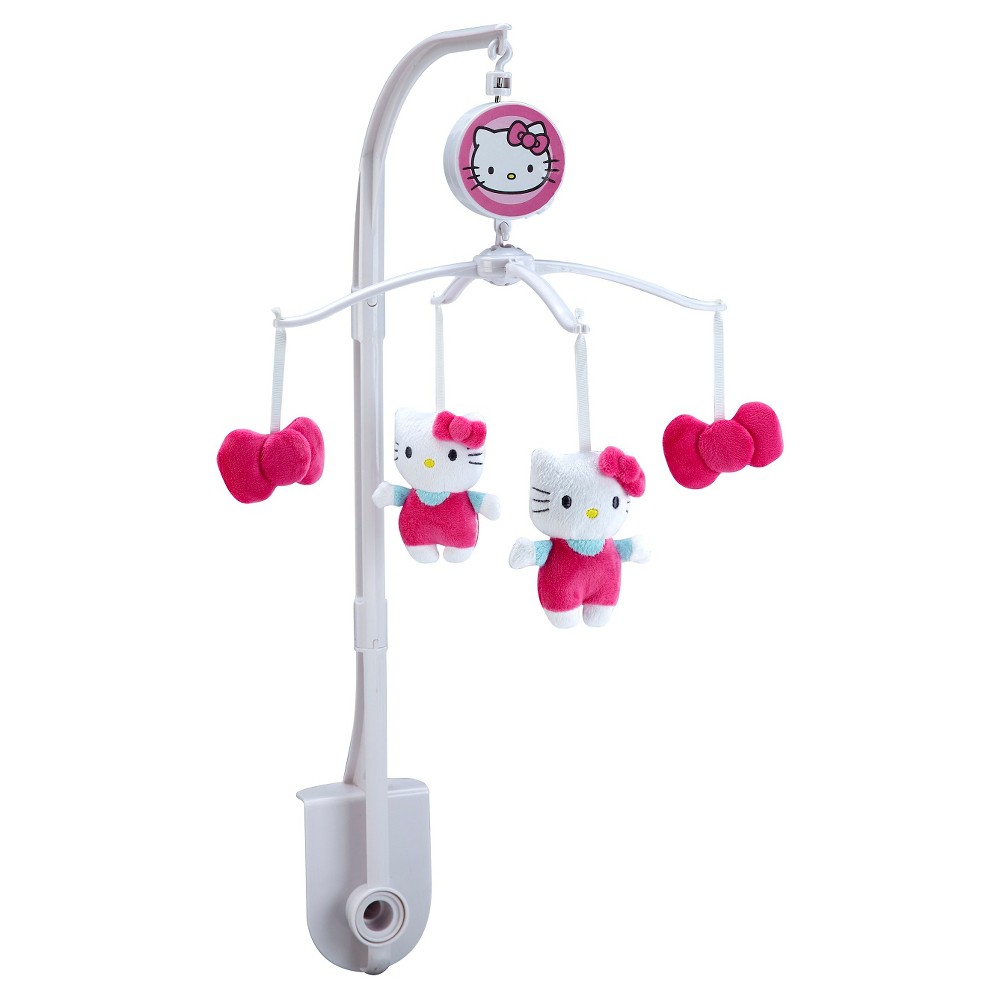 This musical mobile will help soothe your little one to sleep, gently spinning while playing Brahms Lullaby. Hello Kitty and her iconic pink hair bow spin sweetly, lulling baby to sleep. Coordinates with a complete line of Hello Kitty Cute as a Button nursery bedding and decor.
Help your little one transition from bottle to cup with the Nuk Hello Kitty active cup. Sure to put a smile on Babys face, this adorable cup features a soft, spill-proof spout. Lightweight and streamlined, it comes with a convenient clip for easy portability.
Craft something creative with Hello Kitty! This 100 percent coral fleece synthetic fabric by Springs Creative is perfect for quilting, apparel, home décor accents and almost any craft or Diy project. Width: 59/60.
Hearts, stars, bows, stripes, and of course Kitty herself decorate this cozy 4-Piece Toddler Bedding Set.
It includes a pillowcase, fitted and flat sheets, and comforter, all with bold and fun graphics in pink, black, and white.
Help your little golfer look fashionable as her game grows with the Sanrico Hello Kitty GO! Junior Golf Set.
Adapter – Pink/White
Entertain yourself, and your friends, with the two, included microphones, a flashing disco light for visual effect, and dynamic twin, 3 speakers for all to hear. When you would prefer to keep it to yourself, there is a headphone jack for personal listening.
(Hardcover) (Michele Chen Chock)
**What are some of your favorite Hello Kitty products that you have?**
I would love to hear your responses!
Karen – Kupon Girl